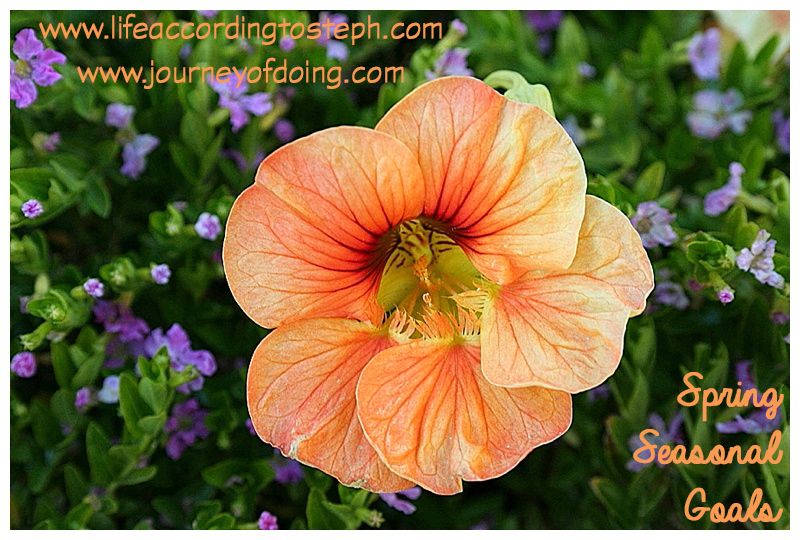 It's finally seeming like real spring here in the Chicago area. The end of winter has been a tad messy for us. Between being sick with a bad cold that dragged out for two weeks in February and now this week being all messed up with a staycation then the stomach flu I feel like the rest of life has piled up and not been accomplished.
Spring time goals are definitely needed! I very much like that
Steph
has a very timely link up and the thoughts that setting them seasonally can give you more time to get them accomplished. So I'm starting my spring off with seriously goal making! This is a great opportunity to get some more of my 101 list checked off or at least started. You should join in and start the new season off on a great foot.
1.
Make and consume 1 Disney inspired cocktails
with Stephanie
Since Stephanie and I are planning to get together to work on my different outfits this would be the perfect time to make one of the Disney cocktails on my 101 list.
2.
Make homemade spaetzle
and wienerschnitzel for my family
3. Spring clean the entire condo
Since I've been sick multiple times we have cleaned but I think once it gets warm enough to fling open every door and window we need to hardcore clean.
4. Have my full on spa day (I've earned almost all of the money for it!)
5. Work on designing and printing the birthday & anniversary cards
I've been working on designing ones I actually like. Found some fun inspiration so it's just actually putting mouse to Photoshop. If I'm feeling especially productive I'll even get them all written.
6. Spend a day working on the family ancestry stuff
This has been on my to do list for a while now and I just need to schedule a day to work on it. Work on it and actually get things done.
7. Write, write, write.
Sooo many posts have been just hanging out as drafts for forever. I need sit down, write and schedule a bunch of them. Since it looks like this goal length will go to June let's say 30 posts written and scheduled (break it down to 10 per month)
8. Spend an hour each week scheduling blog social media. Spend an hour each week scheduling Pampered Chef social media.
I'm sure there are some other goals that probably need to get on my list but for now I think I've got my hands full for the next few months! Plus there are all the items that will make it to my daily to do lists! What's your biggest goal for this spring?