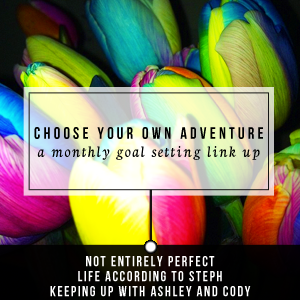 Another month has flown by and I'm linking up again with some fabulous ladies! Unfortunately this will be the last link up : ( Which makes me really sad! I love having a theme to my goals each month. Maybe I'll start the cycle again and do it all over. Who knows.
This past month was overall a success I think.
1. Read two books I own that can then be put in the garage sale.
2. Read and comment on 15 blogs every other day.
3. Read every week night before bed for at least 15 minutes.
I was able to do 1 and 3 successfully. I actually ended up reading three books & eliminating two I didn't realize I didn't really want to read. Both of these goals I am going to continue on with this summer in an effort to read through the books I only want to read once then can be put in the garage sale. This past month I actually found a good routine of reading 10-20 minutes at night before bed then during breakfast and for 5-10 minutes after.
Number 2 I didn't do as well as I wanted to. I probably commented on about 5-7 every other day. I'm going to keep working on this one in the future for sure.
Again I'm sad to see this link up end but I think this past year everyone rocked their goals out! It was awesome to see everyone achieving each month!!