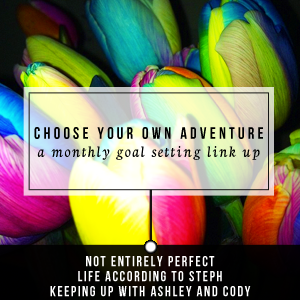 Aw yeah! It's that time again! New goals time! It's so funny the past couple of years I am so in to so many adult things like goals and wanting to be super organized. Being an adult is dumb but I love it! Most of the time ha.
April - Finances
1. Go through financial drop files (once their unpacked) and get rid of old papers we don't need.
2. Meal plan for one whole week according to the sale flyer
3. Deposit change jar in the bank

Heck yeah! I rocked out last month. Checked off every single one of those bad boys and then some. Although I ended up meal planning/stock up shopping that week because of the really awesome sale prices so it was more than I was planning on spending but it was the kind of trip where then I don't need to buy certain items for at least a few months.
May - Read
1. Read two books I own that can then be put in the garage sale.
This is my goal not just for this month but up until we actually have the garage sale. There are so many books I purchased from places like the Barnes and Noble bargain shelves that I just actually really want to read but then can get rid of.
2. Read and comment on 15 blogs every other day.
3. Read every week night before bed for at least 15 minutes.