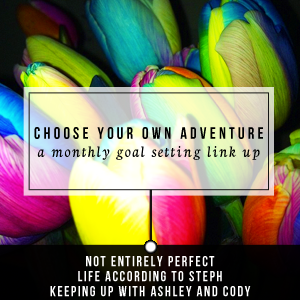 How did you do this past month on your "relationship" goals? I'm glad I set the bar lower in March because with everything going on I definitely would not have been able to get any more done.
1. Schedule (hopefully have) lunch out with my friend, Britta
2. Have a girls night with my mom and Bethany
3. Figure out a movie day with Kevin
I wasn't able to do any of the tasks that involved actually doing something but I was able to get all of the dates scheduled. So I feel good about making sure all three are down in my calendar the next month.
Finances in one area I know I need to really work on! I feel like I should go for broke and do really big goals in April because I know we need to do things like develop a whole budget but I feel like going so big just wouldn't get done. Since I'm still in the middle of packing to move this weekend and my brain keeps saying stay smaller I think I'll do just that.
1. Go through financial drop files (once their unpacked) and get rid of old papers we don't need.
2. Meal plan for one whole week according to the sale flyer
3. Deposit change jar in the bank