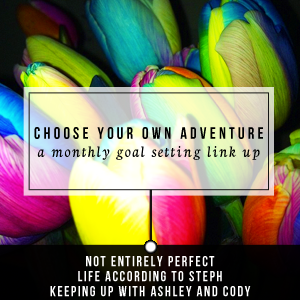 How insane is it that we are now in February!? The winter, I think, usually goes faster since I go into hermit mode and just sit at home wishing away the snow. I unfortunately wasn't able to actually cross off any of my
complete
tasks from January but I was able to get them super close and get a lot accomplished with them.
1. Put the condo up for sale.
Kevin and I are gathering all the important info for our Realtor and starting to put the finishing touches on cleaning so we can get photos taken.
2. Organize Pampered Chef papers
I've printed out labels and organized everything that was already in the file drawer. After going around the condo gathering papers and pulling all the paperwork out of my couple of bags I really have only those random bits of paperwork to finish up.
3. Finish one of my scrapbook displays
I would have had this done if not for a Shutterfly order getting lost in the mail, that really put a cramp in getting the display finished.
Everything is pulled out and I have the photos ready to go for a display for a couple immediate family members. Now I just need to find a day I can sit down and let the creative juice flow.
Sometimes I think Stephanie has hacked into my house and/or brain and knows what projects I really need to finish up. Since she's hacked in she is unconsciously making me finish them. February's challenge is
create.
I've been totally slacking on my DIY projects the past couple of months so this is great.
1. Take images (and or video) of one of my knitted dish rags as I knit
2. Complete 4 pages of my scrapbook display
3. Mario Mini Canvas project
Here's hoping with the shorter month and being out of the country this weekend I can get these projects done!!