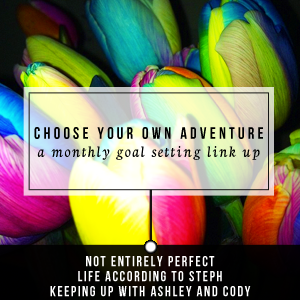 Holy cow I can't believe I'm already linking up to share how the past month went! That one went by in an instant. Looking back at my
goals for November
I did really well!
1.
Organize my Pampered Chef papers
- Unfortunately I'm not totally finished on this one, I found a stack of my PC materials hanging out in a box in our storage room and some at my parents house but I was able to get the rest of it sorted and in their proper folders. I've also typed up the labels for the folders.
2.
Work on my magazine hoarding issues
- OH my gosh I rocked this guy out! It took a little bit to figure out what I was going to do since the ones that were being stockpiled were the recipe mags. With a little advice I decided to pull out the recipes I wanted and send the magazines on their way. Surprisingly there weren't as many recipes that I was keeping as I thought.
3.
Pack more boxes -
Kevin and I both rocked this one! Since we're putting the condo up for sale January 14th we definitely need to keep up on this one.
December = Simplifying
I feel like some of what I've been doing already with my organizing has also been trying to simply. Like with my Pampered Chef papers I organized them I also did things like getting rid of my monthly news bulletins from the past few years and kept only the ones from 2014.
1. Continue to pack & get rid of stuff to sell condo
2. Add 7 items of clothing to my "get rid of pile"
3. Simplify my blogging for 2015. Meaning I will need to do some planning ahead!