This weekend is St. Patrick's day! St. Patrick's Day in Chicago is kinda like Ron Burgundy ...
St. Patrick's Day in Chicago
: I don't know how to put this but I'm kind of a big deal.
People
: Really.
St. Patrick's Day in Chicago
: People know me.
Yup it's a big deal! Chicagoans kinda go nuts. I actually have don't think I've ever been in Chicago for St. Patrick's Day ... at least since I could drink. The past few years I've had family things going on. This year will be different ... I will actually get to experience the crazy and some of the awesome Irish things to do in Chicago.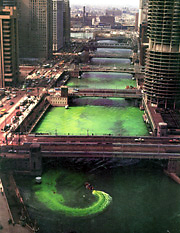 I might get to see the green river! Every year the
Chicago Journeymen Plumbers
dye the Chicago river green. Yes yes I know the river is always green but that's more a puce green. I'm talking about a bright green, makes your red hair look like a firecracker when you wear it green.
Since it looks like I will be starting out earlier in the day with Stephanie and the crew who actually live by the river I might get to see it!! If you're in Chicago go see it but I would wait until like 11am (dying is at 10am) people say it's a madhouse when they actually toss the dye. I'd wait for everyone to head to the parade in the park.
If you're looking to learn more about Irish Chicago head north to the
The Irish American Heritage Center. It's a bit of a hike up to the Mayfair neighborhood but the Blue line will take you straight from the Loop to the Montrose stop three blocks away. There is everything in the IAHC. It has a museum, library, theater, classes, dance studios, and so much more. You can learn about your Irish heritage, take a language class, attend a concert ... I'm pretty sure I would need more than one afternoon to experience all the IAHC has to offer!
I could head back to Lincoln Park to the
Galway Arms
again or one of the other half dozen Irish pubs in the area but we have a special night planned. We're heading to
Uncle Fatty's Rum Resort
. It is probably the furthest you could get from being in an Irish pub on St. Patty's day ... it's definitely Caribbean themed. There way even a sand area for years but I think too many drunk girls in
stilettos bit it so no more lounging in the sand. I think there might be green fishbowls and beer so that counts right? : )
In addition to the usual 'Stache crowd at the show it looks like we might be joined by one of my other favorite bloggers ... Taylor at the Daily Tay. Stephanie worked her persuading magic ... or blackmail for all I know ... and as of now she's coming out to join the crazy with us. I'm so excited I love her!
Hope everyone has a crazy fun St. Patty's day! Hopefully I can actually show you some of the photos Monday ; )